Empowering Roma women through Public Narratives — Discover the Narratives4Change project - MCAA Magazine News January 2021
Public Narratives is a leadership practice, and is one of the keys of inspiring leadership. We discussed with Emilia Aiello how those narratives can empower Roma women in the framework of the Narratives4Change project.
Emilia, in her own words
I was born in Uruguay. In 2003, when I was 14 years old, I moved to Europe together with my parents. This was when the economic recession, sparked in Argentina, spread to my country. We settled in Catalonia, being one of those Uruguayan families with Italian nationality living in Spain. My father's family had migrated from Italy to Uruguay at the beginning of the 20th century, fleeing poverty and looking for opportunities, and a century later it felt like we were doing the same.
This experience had a strong impact on me and how I understand the world. I realised how important community was for me, for my family, and how paramount it was for me to fully understand how some political, economic and societal factors shape society at the macro level. And also how counting with community networks is key to open up spaces that enhance our agency as human beings, and allow us to at least contest those societal constraints.
At university, I majored in Political Science and had the opportunity to spend one year in the United Kingdom, in the framework of the Erasmus exchange programme. This stay strengthened my convictions on how academic work can influence society, and how higher education institutions need to work to mirror social diversity.
Returning to Barcelona, I started to collaborate with Teresa Sordé Martí, professor in sociology, who at that time back in 2009 had recently returned from Harvard where she was doing her dissertation, focussed on Roma community and inequalities. She became my mentor. It is thanks to her and her amazing work and her mentoring that I became involved in conducting research on the Roma community, and started working on the Narratives4Change project.
Roma women have powerful stories to tell and should be given adequate space to make their voices heard. Even though Roma women-led movements can provide these spaces, the current groups lack the necessary structure.
What's more, Roma women tend to not be considered as key actors on the public stage. This is due to numerous prejudices. "We tend to overlook these women, whereas they are very active within local associations and have been doing amazing work. Nevertheless, when it comes to participating and to be involved in debates and in the decision-making process, Roma women are not yet represented," explains Emilia.
STRUCTURING ROMA WOMEN-LED MOVEMENTS
Focusing on Roma women narratives and giving them the opportunity to share their stories within structured organisations could transform into a unique leadership opportunity for them. This is the overall aim of the Narratives4Change project.
Narratives4Change (launched in 2019 and expected to end in 2022) is focussed on associations working in the field of education, health and gender equality. The project aims to better organise the Roma women movement in Europe. "This project could provide a lot of addedvalue for both the Roma community and those working in grassroots-based organisations tackling seriously how to organise around social inequalities, showing that leadership matters," says Emilia.
In this context, Emilia is currently conducting research on a key aspect of the project: Public Narratives.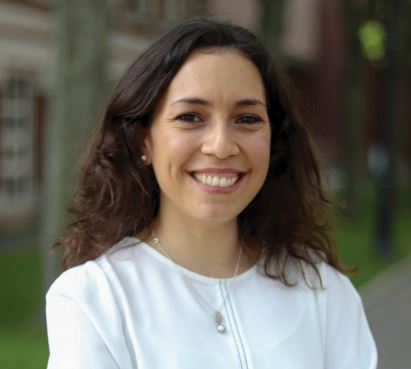 EFFICIENT PUBLIC NARRATIVE MAKES GREAT LEADERS
Together with Professor Marshall Ganz at the Harvard Kennedy School (who developed the public narrative leadership framework, which was adapted by the 2008 and 2012 Obama campaign, and now is used by organisations worldwide), Emilia is analysing the social impact of the public narrative framework as a pedagogy for developing collective leadership which could be used by Roma women.
This framework is based on the following three stories:
Story of Self: This narrative can be used to communicate sources of caring and sources of hope, inviting others to be empathetic.

Story of Us: This narrative can unearth the shared values on which a collective identity can be grounded.

Story of Now: A narrative generating a sense of urgency on the individual and activating sources of care, ultimately encouraging to take action today (not tomorrow).
As such, the Narrative4Change project considers that public narratives enhance leadership, and provide a framework for leaders, which can be further adapted to diverse geographic, cultural contexts, and areas of action. "Ever since people have been using narratives across different geographical contexts and cultural contexts. But what we are looking at is how the use of public narrative contributes to change things, diving deeper in the specific elements of this leadership practice, that of communicating one's own values by engaging with others (Story of Self), our shared values with our community (Story of Us), and the urgent challenges to those values that require a response today (Story of Now)" added Emilia.
In 2020, Emilia deepened her research by conducting a survey among persons who learned public narrative either being students at Harvard or participating in workshops held between 2006 and 2020. The survey aimed at mapping how the public narrative framework was being used in public leadership in different domains (workplace, constituency groups, campaigns, private), areas of action (e.g. advocacy/organising in education, health, politics etc.) as well as cultural and geographical contexts.
One of the main survey findings was that public narratives are being used all around the world, mostly in the US, but also in countries as diverse as Uruguay, Sierra Leone, Jordan or Japan.
What's more, against what we initially thought, public narrative is not solely being used by leaders within their workplace, or at the public sphere, but it is also being used at the private sphere, to engage with friends and family.
Enthusiastic about these first results, Emilia is convinced that public narrative can be useful for Roma women organising at the local level, in Spain and in Europe, and that at the same time those working in public leadership across the world have yet a lot to learn from the Roma communities themselves, and their dialogic way of leading She is looking forward to communicating the final results of the Narrative4Change project in 2022.
MCAA Editorial Team