Dario Pellizzon was awarded "MCAA Honorary Recognition" at the MCAA General Assembly in Salamanca. We met him to find out more about his involvement in promoting the MCAA.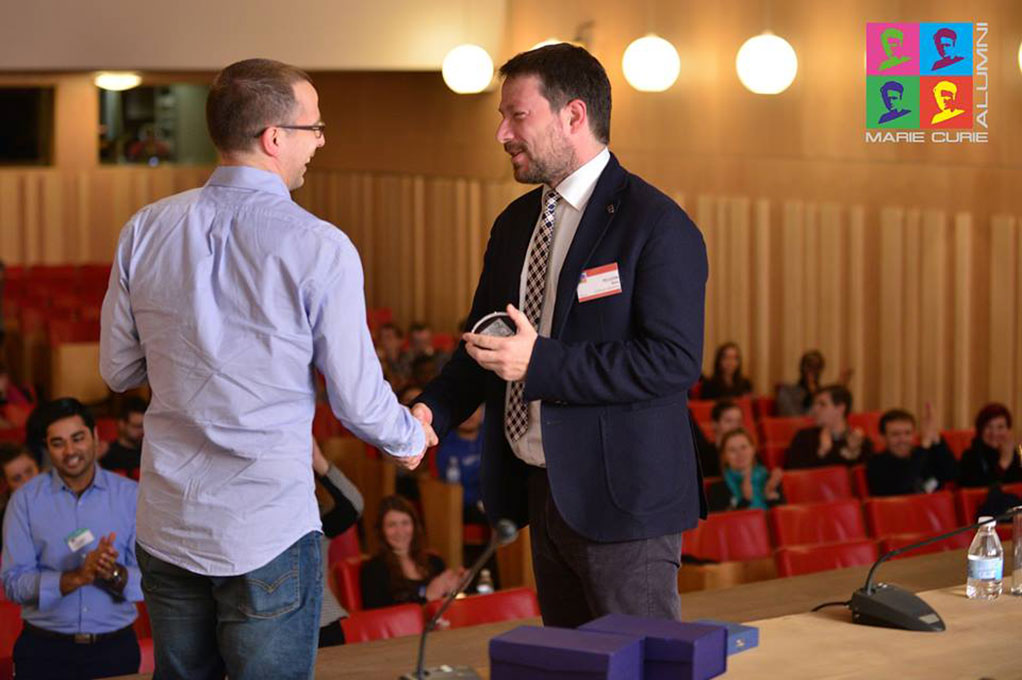 Matt Jaskulski (Fot. Matt, Foto-modelos.es.)
---
1. Dario, you were awarded "MCAA Honorary Recognition", what does this recognition mean to you?
First of all, let me thank you all and tell that I'm really proud to be part of this family. This award means a lot to me: it is the recognition of our professional and personal commitment to making talents emerge and to supporting promising researchers in their career development. And, beyond words, it was a priceless thrill!

I said "our commitment" because the Award is shared with our Marie Skłodowska-Curie support team: Claudia Bertocchi, Silvia Zabeo and Fiorella Giacometti (mariecurie@ unive.it). This recognition proves that research support services play an increasingly crucial role for researchers' career development and the creation of a fruitful research environment.
2. Could you present the Ca' Foscari Unviersity of Venice and your role?
I am the Head of the Research Office at Ca' Foscari University of Venice, located in Italy. Ca' Foscari has an outstanding reputation, nationally and internationally. It is ranked among the top 200 universities in the QS World University Ranking by subject, and third among state universities in Italy for quality of research.
These achievements are the result of a consistent commitment involving not only our governance, but also all the components of the university. 
My work to improve the quality of institutional, national and international research starting, with researchers' careers, is intertwined with the commitment of my team. Let me say once again that this award also goes to the all wonderful people I work with and to our daily and constant engagement at the research support offices.
3. What is the relationship between Ca' Foscari University and MSCA Fellows?
It's a mutually beneficial relationship, and I'll explain why. When I started my job as junior research officer, together with my friend and colleague Davide Buldrini, we quickly
realised the potential of Marie Curie Actions to make both researchers and institutions competitive internationally. 
Since I became Head of office, in Ca' Foscari University of Venice we have focused on providing high-quality support to potential applicants, which has established a win-win relationship and created a very active community of international researchers.
For three years now we are the leading university in Italy for Individual Fellowships awarded, and that means a lot. For researchers, Ca 'Foscari has become an international reference point and now
we receive applications from all over the world.
For us, the experience acquired and the energy brought by MC Fellows brings continuous improvements, making our university a more welcoming and positive research environment. Within the human resources strategy for researchers HRS4R action plan we have implemented a number of benefits for MC Fellows and postdoc researchers. In general, we are improving a lot as professionals.
And it's a never-ending story, as I told you during the award ceremony!
4. You were involved in the preparation of the MCAA General Assembly in Venice and you attended the 2017 GA in Salamanca. What were your impressions of both events?
Being part of these events is always a great pleasure. I had the honour of participating in a dual capacity: in Venice, in 2016, I provided support in organising the event and I was able to appreciate the mechanisms and synergies of this fantastic group of people from the inside. In 2017, in Salamanca, I attended as an Honorary Member and awardee, with a different perspective. In both cases, anyway, I felt part of a great family connected by strong and shared values, and I was impressed by the energy of the people who are part of this group, which is growing in importance, numbers and ideas year by year.
5. What kind of collaboration do you plan to establish with the MCAA?
My goal is to strengthen an already active relationship: on 29 March, we launched the Marie Curie Alumni Association – Venice Local Organisation.This group includes Marie Curie Fellows at Ca' Foscari, and Ca 'Foscari researchers who are carrying out a MC project at other host institutions in Europe.
Consolidating a positive research environment includes creating opportunities to meet and exchange 
between promising young researchers. The Venice Local Organisation aims to enable MC Fellows to meet, discuss and cooperate, actively exchange information and propose initiatives for the benefit not only of MC Fellows themselves, but also of all post-doc researchers working at our University.
The Venice Local Organisation has obtained official approval from the Marie Curie Alumni Association: it is an endorsement in line with our will to strengthen our synergies.
6. What would you like to tell the next Honorary Recognition recipient?
I am sure that the next recipient will be awarded for his or her outstanding commitment to the development of researchers' careers and support to the MCAA.
My wish is to be able to collaborate with her or him to create a welcoming research environment, it is essential that support services are high-standard and exchange good practices too.
My only advice is to keep on working: ours is a mission that never ends, and that enriches you more and more every day.
And last but not least be prepared: being invited to take the MCAA stage, in front of 200+ researchers from all over the world and in front of the European Commission representatives really rocks!
   DARIO PELLIZZON
---
I MARRIED A MARIE CURIE FELLOW...
Mobility is very often an inherent part of an active researcher's life. Whereas it is always interesting to move and work in another country, it is not always easy to combine this with family life.

We met Dominik Kuzma, who left his job to follow and support his wife Paula Kuzma, a scientist from the Faculty of Biology of Ljubljana (Slovenia). She was first a Humboldt Fellow in Germany and then a Marie Curie Fellow in Scotland.

Dominik is behind the blog "Hertourage", where he depicts with humour his family's adventures in both countries. We met him to find out more about how to combine family life and mobility.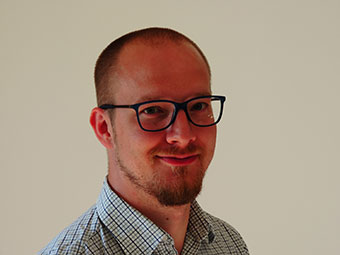 1. Dominik, please tell us a little about yourself
For the past three years my greatest focus has been our two kids, Mojca and Ambrož, as we moved from Slovenia to Germany and then from Germany to Scotland, following my wife Paula and her scientific projects. I went from full-time lawyer to full-time dad in a matter of days and now I am preparing myself to be a full-time lawyer again when we move back home.
2. What about your blog 'hertourage. com' – why did you decide to create it?
When I worked as a lawyer in Slovenia I felt I was at the top of my game. Every day was full of new and demanding things to cope with. Therefore, when we decided to move to advance Paula´s career, I felt that I had to find something that would be completely mine – something that would drive me to stay creative and to challenge myself, creatively and intellectually. 
The first idea was a blog, which would be a kind of online diary of our life abroad. My family and friends could read it and it would keep me busy. Paula and I came up with a name that combines the words 'her' and 'entourage' and Hertourage was born. While initially only friends and family read it, now it seems that most of the readers come from countries other than Slovenia. Mostly these are people we met on the way or people who found the information on the blog either interesting or useful. In fact, the most-read blog post is the one about financials and taxes in the UK in connection with the Marie Curie Fellowship.
3. Could you tell us about your wife Paula and her work as a scientist? 
I am probably not the best person to explain what she does as a scientist. Maybe it is best if she explains herself through the blog where she writes about the more mundane things connected to her work at https://plantventurist.wordpress.com/.
However, I can tell you about the kind of person Paula is. As you might imagine, the decision to leave our home in Slovenia, the city in which we had lived for more than 30 years, was a hard one. I would never have quit my job, the career that I had been building for more than 10 years, on a whim; but it came down to the question of my career as a lawyer in a public sector against Paula´s career as a scientist. I considered the efforts that she had made until then, I noticed her enthusiasm for what she was and is doing in the field of biological science, and soon decided that there was no contest. We needed to do this. First to promote her career as an already established young scientist, which she has proven through her successful projects and several rewards for her work. Second, to allow her to follow her passion, which could lead her to great things. Much greater than I could have achieved in an office at the Ministry of Finance.
There are other things that influenced my decision to support her in whatever she envisioned for us. These other things are maybe harder to explain on paper if you have never met Paula. She is very kind and selfless, hardworking and dedicated to her family and to her career. She is honest to a fault and loyal to all her obligations, which has enabled her to form a large network of international scientists who trust her and love to work with her. 
4. How would you describe the life of a "Marie Curie Fellow's husband"?
Here in Dundee I am referred to as a kettle boiler. Dundee, where we live currently, has interestingly a long history of men who stayed at home while the women went to work in the jute factories. They stayed at home and kept the kettle warm and the fire burning.
If it wasn´t for the generous scholarship of Marie Curie Fellowship, we could never have
imagined the life we live now. Raising a family takes a lot of effort and financial input, which would not have been possible without a generous grant. In terms of staying at home with the kids, it sounds dreamier than it really is. It takes a lot of effort to raise kids and look after a household, especially when you are doing it in another country. The one thing that I really struggled with was the ever present desire to have a career. This intensified after the kids went to school here in Scotland and I found myself home alone, with no real plan. I completely realise that soon I will miss the Dominik with no plan, and with every opportunity to be whatever he wants to be.
Outside of those negative aspects the past three years have been absolutely amazing. As it is with most things, I will not have a completely clear picture of what the past three years have meant to me, until it is over. If I had to emphasise one thing that is best about staying at home, it would be the adventures. In Germany and in Scotland I tried to plan an adventure for almost every day. This has since developed into a sense of a necessity. There is a constant unease in me, in us, an unease that pushes us to go somewhere unless we feel like we are wasting our time. Before Hertourage I was completely content with staying at home for the weekends, watching television. Now we don´t even own a television. Also, it helps that we are in Scotland. Scotland is the best country to have that unwavering urge to go outside. There is vast countryside where there are scarcely any people, allowing you to really feel the wild nature.
5. What would you advise to families moving to Germany for career reasons?
This is an interesting question and I have been doing a lot of thinking about this. I have even finished writing the first draft of a book that gives a lawyer´s perspective on living abroad. Therefore, this answer will be in line with what I do – a kind of legal view of relocating a family. What we have learned is that when moving with kids, every family needs to be sure that they have financial and social security. This is my advice to all the brave souls out there who will make the right decision and go for it.
First, organise your formal status in the home country. Especially be careful how you determine your tax residence status to make sure you are not double-taxed. Then take care that you have enough finances to get you from month to month.
Financial planning can represent a big problem for most people. When you see an amount of a scholarship or your pay, it will probably be in gross amount, which means that taxes and social security contributions will be deducted from it. This could mean a 30-40% deduction from the gross amount or even more, depending on the country. If you realise that the net amount will not be sufficient to allow you a normal life, then you need to work around that or rethink your move. The second thing is the social security. We are very lucky to live in an integrated EU, where we are all considered EU citizens and enjoy the same rights as nationals. However, social rights differ from country to country and are also dependent on the status of the employed member of the family. For us that meant that in Germany we had no public social security (pension and health insurance) because Paula´s scholarship was not considered employment. Therefore, we had to get private insurance to provide at least the basic health insurance for the kids. Kids get sick, they fall, they bump their heads, they catch germs and so on. In connection with social security there is also the educational aspect of moving to another country. It is important to check where the kids will go to
kindergarten or school and if that system is private or public.
Germany offers a lot of safety and security for families in these respects. However, things can be hard if you do not know the language, especially when dealing with formal procedures. Therefore, the third thing I would mention is the need to know the language. Our experience in the provincial Bavarian town of Bayreuth showed us that not everyone knows English or is willing to use it, especially when you are asking for benefits. 
6. ...and the same question for families moving to Scotland?
The above goes for any country you move to. Do not close your eyes and jump while hoping
to land somewhere safe. Know your rights and use them. 
However, the UK has found itself in a very interesting political position due to the Brexit. I have to therefore emphasise the need to be informed of your rights and how to approach relocation. I expect that in the future things will change for EU citizens living in the UK and not all the changes will mean good developments for the rights that we enjoy right now. 
On a more personal note, Scotland has proven to be a most hospitable place with wonderful people that look at our accents with interest and not suspicion. We have been made to feel very welcome here and it will be very hard to leave this great country and all the people behind.
7. What are the two most memorable moments from your time abroad?
There were so many that I could write a novel on this topic. In fact, my blog is the novel. But if I have to single out two things it would be:
- My kids talking fluently in a foreign language at the age of six. When we go somewhere and they speak to Scottish natives, they consider us to be Scottish. That is until their parents get involved in the conversation. 
- Walking barefoot from our flat in Bayreuth to get some ice cream in the town centre and then playing in the waterworks. That is one instance when I felt completely carefree and relaxed, no worries interfering, no calculations in the head, just us and the kids with gravel between our toes and ice cream melting with the hot sun over our heads.
8. What did you learn from living in two different countries?
We learned how to be a family. Moving away from home can be a very stressful experience, with so many things that could go wrong. However, as soon as you do move, you start finding that in the collective that is the family there is incredible strength and independence.
Family, when removed from the wider family and friends' influence that is present in the home country, quickly becomes a well-functioning unit, where every member has a function. When you start working in that way
there are few things that you cannot overcome. We have definitely become stronger and more confident, all of us, since leaving Slovenia.
The second thing would be the realisation that the world is a big and interesting place. The discoveries that we have made in the last three years sometimes give me goose bumps. 
Next to these pleasant and empowering things we have also learned that no country is perfect. Like every person, every country has its own problems. The key is to focus on the good things in every country and learn from the bad things. In short, these experiences have definitely opened our eyes and we will never look upon our home country in the same way again.
9. How do you envisage the future of your family?
I wish I could. I really wish I could envisage the future of our family. Currently all I hope for is that we settle back home with relative ease and that we´ll continue to live our lives with as little difficulty as possible. The experience of the last three years has opened our hearts to the wider world and there are nights, when the kids are in bed and Paula and I talk about the future, when we start playing with ideas of abandoning the plans to go back home and instead continuing the adventure in some other country. While these ideas seem romantic, there is a lot of effort involved in the relocation
of a whole family and we feel some desire to settle down for a longer period. That being said, we have already agreed that after the kids finish primary school in Slovenia and if our careers allow this, we will try to have another adventure. What will really happen is anybody´s guess.