THE MCAA MEMBER BEHIND THE START-UP 'ABRICOTOIT'
ABOUT JULIEN GIRARDON
I'm French, and before starting my PhD studies with a Marie Curie Action, I spent time in several different French cities improving my skills. After general education in laboratory analysis, I obtained a first degree in ecosystems and populations biology, and finished my university education with a Master's degree in plant biotechnology.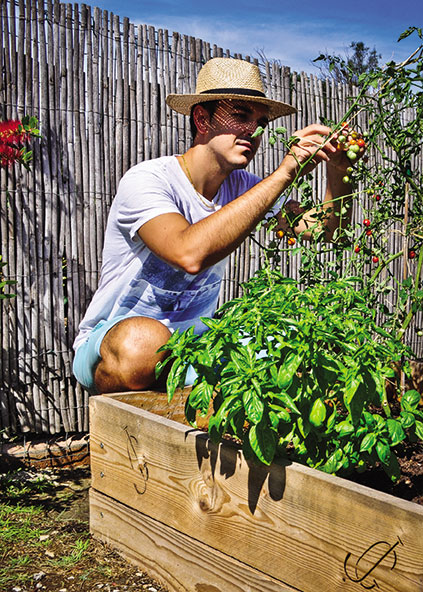 MY MARIE CURIE EXPERIENCE: THE HARVEST PROJECT AND NETWORK
The Harvest network brings together major high-quality EU centres with expertise in a wide range of disciplines – from plant physiology to molecular biology, structural biology and photophysics – and who have a great interest in interdisciplinary collaborative research. The network will thus provide a unique training opportunity for young researchers in key aspects of molecular biosciences and biophysical sciences, for example in practical applications in instrument development, agronomy, ecology and biotechnology.
I worked on photoregulation at the pigment and protein levels in the laboratory of Prof. Roberto Bassi of the Università degli Studi di Verona, Italy for three years. I focused in particular on LHCSR protein in the moss Physcomitrella patens. 
The Harvest project was an unforgettable experience. First, at the scientific level, it provided high-quality training and the opportunity to travel in the best laboratories worldwide. Second, at a human level, it led to solid connections between all PhD students taking part in the Marie Curie Action.
MY BUSINESS: ABRICOTOIT 
Abricotoit uses urban farming as a vector to raise awareness of sustainable development issues among the population of individual. Thanks to the Marie Curie Action, I travelled to diverse cities worldwide, and learned about the place that plants have in big cities. After my PhD, when I came back to Marseilles, (France), I rediscovered a mineral city and a population disconnected from the realities of food and agriculture.
Today I split my time between Marseilles and Paris. Through urban farming, I produce ingredients for a restaurant in Marseilles, and hops for a local craft brewery in Paris.
TRANSITION BETWEEN ACADEMIA AND INDUSTRY
The transition is not easy, but there are similarities. During my PhD, I was usually working on many projects simultaneously. But in industry, you must focus exclusively on one or two projects to avoid wasting energy. The language used and the way in which communication happens are considerably different between academia and industry, and reactive time is faster in industry.
MY ADVICE TO MCAA MEMBERS WISHING TO CREATE THEIR OWN BUSINESS
All MCAA members have reached a very high level in their research field. But even though they might have a wonderful idea, they have not been trained to become entrepreneurs. Sometimes business acumen is lacking. Before opening my company, I attended entrepreneurship training for six months. I would encourage MCAA members to seek advice from an organisation supporting the set-up of a new business.