Roy Someshwar (from India) is the treasurer of the MCAA and is also involved in the ASEAN Chapter as well as the Financial Affairs Working Group. Intrigued by this very active member, we decided to ask him whether his Marie Curie Action changed his life. See his answer below. And prepare to be inspired!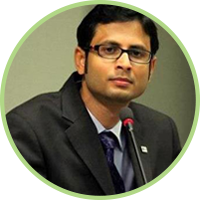 Where and when did you hear about the Marie Curie Actions for the first time?

Marie Curie is a well-known brand for budding young scientists aspiring to do their research in Europe. So it was always clear to me that if I decided to do a PhD, I would do it with a Marie Curie Fellowship, which offers research independence, quality training and maximum possibilities for all-round career development to prepare you for post-PhD life.


Do you have special memories of preparing your application?

Oh yes, I do! One should take special care while preparing the application package for any prestigious fellowship. The Marie Curie fellowship is highly competitive with a single-digit success rate where one small mistake in the application can cost you the opportunity.

I remember my research proposal went through 10 iterations with my mentor and thesis supervisor to ensure it was absolutely perfect and flawless. That is the level of commitment and patience required to win such fellowships.


What was your Marie Curie project about?

My Marie Curie research project was in the field of Human-Robot Interaction (HRI). It was an interdisciplinary project involving three partners from three countries with expertise in three different fields, namely, Umea University (psychology aspects) [Sweden], Ben-Gurion University (engineering aspect) [Israel] and Space Application Services (industrial application aspect) [Belgium].


When you started your Marie Curie project, what were your expectations?

I knew I'd learn a lot of new things and I was excited about it. I was also really looking forward to all the new experiences that awaited me during my planned stay in three different countries with climates as varied as -25 and +25 C J. Research-wise, I was expecting the extensive exposure that is needed to grow intellectually and professionally into an established researcher in the field.

Thanks to the Marie Curie Fellowship's mobility allowance, during the 3 years, I had the opportunity to participate in 25 international events including top-tier conferences, workshops, summer schools, training and meetings around the world. Where in the world can you get such level of exposure?!


How would you sum up your Marie Curie experience?

My friends and colleagues from the USA call my Marie Curie experience my "Honeymoon Days"J because it's too rosy and colourful for them to believe. I would call it the most rewarding experience of my life, which groomed and nurtured me into a well-trained scientist.


Did this experience change your life? If so, how?

Whatever I am today, all credit goes to the experience and exposure I received during the fellowship. Today, I am as confident in starting my own start-up as I am in continuing in academia. This mixed blend of industry-academia readiness is due to the all-round training received during the fellowship.


If you had to choose the most memorable moment during your project, what would it be?

The most memorable moment would be the first day of my PhD journey in the Dept. of Psychology at Umea University, Sweden. Umea is a small city, 450 km from the Arctic Circle and it was minus 25 degrees (C) during that period. I felt like my office was in the middle of Narnia J.


What have you done since your project? Could you have followed this path without your Marie Curie experience?

I have had a mixed blend of an industry-academia career post Marie Curie experience. I co-founded a tech start-up "Smart Tag" (later rebranded as Lupo) in the field of the internet-of-things. My next venture is in the field of Social Entrepreneurship. On the academia side, I am currently working in the field of Robotics, specialising in the area of Human-Robot Interaction.


Your advice to a researcher who would like to apply for a Marie Curie Action?

Winning a Marie Curie Fellowship is not a one-night or a one-month game. You need to build on your CV over time, adding concrete achievements in terms of training, international experience in reputed labs, relevant skills and publications. An inter-disciplinary background and/or exposure are also plus points.

Last but not the least; you need to put in equal effort and sincerity in preparing the application package, which needs to be flawless. So start early!


You have been the treasurer of the MCAA for almost two years (since November 2013). What have you learnt during these two years?

It's an honour to receive the opportunity to serve the international Marie Curie Community of 6 000+ members as an Executive Committee Member (Treasurer) of MCAA. This is also a position that came with huge responsibility and 100% accountability for the efficient management of the MCAA annual budget, which amounts to hundreds of thousands of Euros of EU public money. These are the two key qualities I have learnt over these two years.


Do you envisage continuing your involvement in the association after your mandate ends? If so, how?

Yes, I would continue to support the aims and objectives of the Association and help it grow by offering strategic advice, training and guidance to the Board as and when needed.