As usual, the annual MCAA Awards ceremony took place at the MCAA General Assembly and Annual conference. Who were the lucky winners? Find out below!

Outstanding Contributor Award:
Kiran Kumar Chereddy
"This award is for me the recognition of team work. I am sad to leave the executive committee, it's been a four-year collaboration, but now it is time for me to contribute with my ideas to the new Board." According to the Committee, Kiran contributed to the MCAA more than anyone else in 2017. Kiran Kumar Chereddy is a manager in strategy and project management office at Novartis Pharma AG (Switzerland) and was the MCAA Treasurer (2016-2018) and an Ordinary Board member (2014-2016).
Career Award:
João Pedro Magalhães
"Winning the MCAA Career Award is fantastic recognition of my work and that of my lab and collaborators, further increasing awareness of research on the biology of ageing, and of my work."
João Pedro's extraordinary career to date swung the Committee. João Pedro graduated in Microbiology in 1999 from the Escola Superior de Biotecnologia in his hometown of Porto (Portugal). He then obtained his PhD in 2004 from the University of Namur in Belgium. Following a postdoc with genomics pioneer Prof George Church at Harvard Medical School, in 2008 João Pedro was recruited to the University of Liverpool. He is now a reader and leads the Integrative Genomics of Ageing Group (http://pcwww.liv.ac.uk/~aging/).
Best Innovator Award:
Meital Reches
"It is an honour to receive this award. It means that I utilised the funds I obtained from the MSCA to start something meaningful." Meital's innovation in 2017 did not escape the attention of the Committee. Meital, Associate Professor at the Hebrew University of Jerusalem (Israel), is a chemist. She was a student at Tel Aviv University for her undergraduate and graduate studies and then conducted her post-doctoral research with Prof. George Whitesides at Harvard University. She established her own lab in 2010 at the Hebrew University. Her research focuses on the interactions of biological entities with surfaces (cells, bacteria and proteins).
Social Impact Award:
Tina Magazzini
"Receiving this Social Impact award means a lot, both on a personal level and more broadly, as an acknowledgement of the role that social sciences can and should play in promoting social justice!" Tina holds a bachelor in Political Science from the University of Florence, a Master in International Relations from the City College of New York, and a PhD in Human Rights from the University of Deusto, with a secondment at the University of Sussex. She has worked with diverse NGOs and the European Commission in the areas of social inclusion, policy analysis and minority rights in Portugal, the United States, Guatemala, Belgium and Hungary. After a decade of moving to and from different what she calls 'B' cities (Brooklyn, Brussels, Budapest, Bilbao, Brighton), she is currently based in Harare, Zimbabwe, at UNESCO's Regional Office for Southern Africa.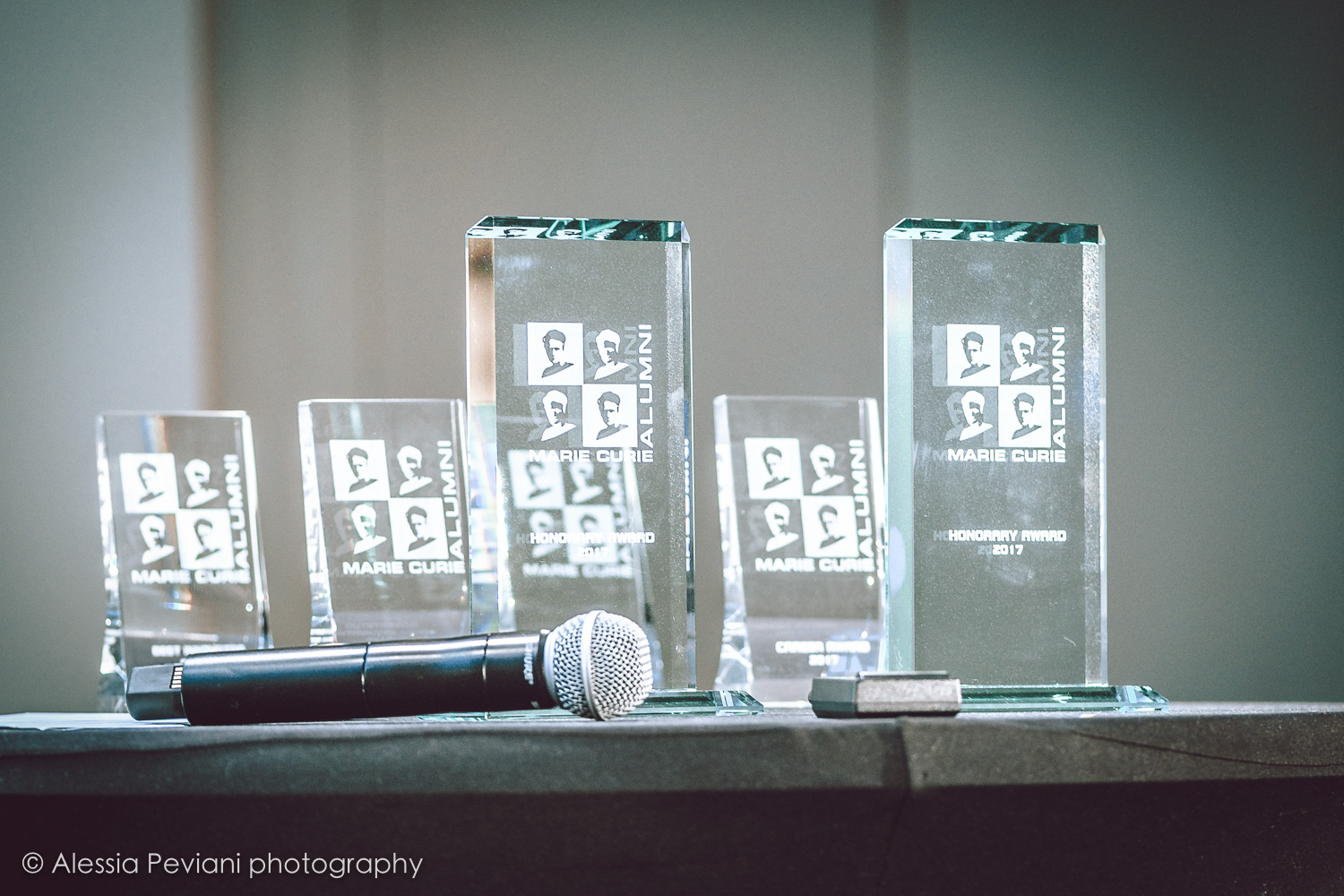 HONORARY MEMBERS NOMINATED BY THE BOARD 
The award recognises member/ non-member and/or organisations for outstanding contributions to the association's development and growth.
Bernard L. Feringa — Academy Professor at the Royal Netherlands
Academy of Sciences, Netherlands, and Nobel Prize winner
EURAXESS represented by Viktoria Bodnarova, Regional Representative of EURAXESS North America
"This honorary recognition means years of hard work and great collaboration with the MSCA and the MCAA community. I would like to thank MCAA and its members for this wonderful award. I would like to thank the European Commission for financing and supporting this initiative and all my colleagues around the world who are doing a phenomenal job in working with the MSCA Fellows!"
Viktoria worked at the Czech Academy of Sciences for five years as a project manager for national and international projects focusing on the mobility of researchers and their career development. Since 2013, she has been the Regional Representative of EURAXESS North America.
An Jansen, Research Policy Adviser at KU Leuven (Belgium)
"I am truly excited about this great honour and recognition given by the MCAA Board! This award means a lot to me, as it shows that our Marie Skłodowska-Curie fellows love KU Leuven and they are happy with the support that they receive. I am very grateful to all my colleagues at KU Leuven for the many efforts they put in to create this supportive  environment."
An Jansen is Research Policy Adviser at KU Leuven. Her areas are training and education, career development and the international and intersectoral mobility of doctoral and postdoctoral researchers. She coordinates the YouReCa (Young Researchers' Careers) programme that assists KU Leuven's young researchers in evolving into highly skilled and multifunctional professionals. She is also the KU Leuven expert and first contact point for the Marie Skłodowska-Curie actions.
Selection Committee
• Professor Mário Tristan: Associate Professor at University of Connecticut School of Medicine (Costa Rica);
• Dr Asunción López-Varela: Associate Professor at Facultad Filología, Universidad Complutense de Madrid;
• Bérénice Kimpe: ABG Foundation;
• Dr Edit Székely: Budapest University of Technology and Economics;
• Janos Kriston-Vizi: Chair of the MCAA Grants & Awards Working Group;
• Dana Ghafoor-Zadeh: European Commission Trainee;
• Raffaele Ferrando: Communication Officer at the European Commission.