HORIZON EUROPE - THE NEXT RESEARCH AND INNOVATION FRAMEWORK PROGRAMME
The Horizon 2020 framework programme is due to end on 31 December 2020, with the next
research funding programme covering the period of 2021-2027. Horizon Europe is still under
construction, but consultations have taken place and the MCAA has been active in making its
voice heard.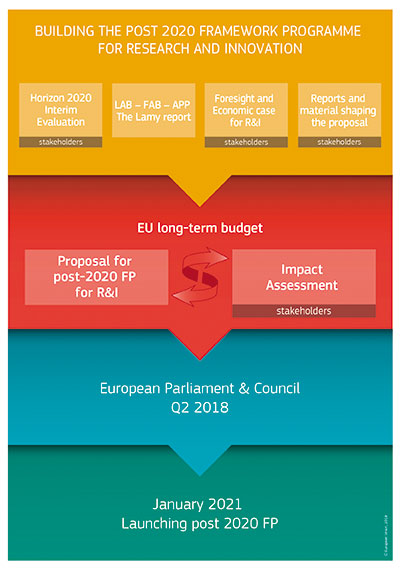 'LAB-FAB-APP'
The 'LAB-FAB-APP' document sets out the European Commission's guiding principles for designing the post-2020 EU funding programme for research and innovation. The Commission's vision builds on the findings of the interim evaluation of Horizon 2020, as explained by Pascal Lamy in a speech at the 'Shaping our future' conference on 3 July 2017.
Mr Lamy explained the LAB-FAB-APP name as follows:
"We need to continue investing in science, whether disruptive or incremental – LAB. But we need to become much better in fabricating added value products and services; converting the results of science into innovative solutions that generate value for economy and society – FAB. And we need to ensure that these solutions find their application for the benefit and with the more active participation of society – APP. We need LAB, FAB and APP. All three, not one or the other. And not one after the other, but all together in an iterative process."
WHAT THE EUROPEAN COMMISSION IS DOING
The Commission is working on its proposal for Horizon Europe – the next framework programme – on the basis of the LAB-FAB-APP report contents, foresight studies and other reports. The proposal will form part of the EU's plans for the EU's next longterm budget, known as the 'multiannual financial framework' (MFF).
MCAA STATEMENT
In response to the "Public consultation on EU funds" launched by the European Commission, the MCAA Policy Group and the Board have published a statement containing recommendations in nine areas:
• Issue 1: Substantially increase research budget to at least €120 billion;
• Issue 2: Widen participation of all EU countries in the R&I framework programme;
• Issue 3: Improve career prospects for researchers;
• Issue 4: Implement Open Science;
• Issue 5: Facilitate long-term financial stability for mobile researchers;
• Issue 6: Expand support for the mental health and well-being of researchers;
• Issue 7: Improve integration of social sciences and humanities;
• Issue 8: Promote integration of displaced researchers in higher education institutions;
• Issue 9: Promote gender equality and diversity.
WHAT'S NEXT?
The proposal for the 2021-2027 EU budget (MFF) was presented to the European Parliament and to the EU Council of Ministers in May 2018. Once the budget has been approved, the Commission will publish its proposal for Horizon Europe. The Council and European Parliament should adopt the proposal, possibly after negotiations have taken place.
WANT TO GET INVOLVED?
Don't hesitate to contact the Policy Working Group:
wg-psr@mariecuriealumni.eu
NEW SOFTWARE VAULTITUDE REVOLUTIONIZES THE PROTECTION OF INNOVATION THROUGH BLOCKCHAIN TECHNOLOGY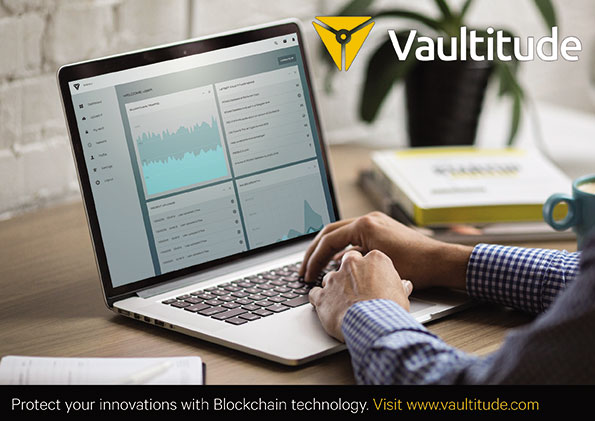 Due to its notary-like characteristics, the Blockchain awards actual proof of authorship. That is the basis for both defending intellectual property (IP) rights, such as copyrights, and for being qualified to receive awarded rights, such as patents.
Blockchain technology has already been identified as a game changer for the IP industry by the likes of Francis Gurry, Director General of WIPO, and Antonio Campinos, EUIPO Executive Director. Also the EU is heading into the same direction – the eIDAS regulation (an EU regulation on electronic identification and trust services for electronic transactions in the internal market) already prohibits courts from denying the legal admissibility of timestamps.
Vaultitude is a browser based software to be released in Q3 2018 that will revolutionize IP protection and as such can offer a number of distinct advantages to MCAA members. Inspired by the team's background in academic research, the platform offers free registration and can be used for safe storage of data, clear proof of ownership, cheaper and faster defensive publication and the secure transfer and sale of IP. Thanks to a partnership with leading authorities in the intellectual property industry, Vaultitude has been designed to solve the challenges innovators face on a daily basis.
Vaultitude's benefits:
• Safe Storage of IPs and Trade Secrets tailor-made for IP departments
• Proof of Authorship & Practical application of Copyrights
• Defensive Publication will be faster, safer and cheaper
• Safer Sharing of Confidential Data by putting NDAs on the Blockchain
• Sell / License / Transfer of confidential data
• Search & Analyse IP data
• Networking
• Filing Patents & TMs
• Optional Peer Review and Ratings functionality
"The new technology that Vaultitude offers is the basis for a tool that sensibly complements existing options and ensures greater comfort and security for the protection of IP", explains Richard Brunner, Global Head of Legal of Dennmeyer Group, a leading IP law group.
A game change for the protection of IP, Vaulttiude is being presented at IP conferences and events organized by EPO, EUIPO, WTO, WIPO, local patent offices, universities and international associations such as IEEE and LESI. Vaultitude also has the friendly support of MCAA, which welcomes the notion of increased protection for the creations of its members. To learn more visit the project's website at www.vaultitude.com
EURO-BIOIMAGING: EUROPE'S RESEARCH INFRASTRUCTURE FOR IMAGING TECHNOLOGIES 
A wide range of research projects require some sort of imaging input and many researchers are often faced with the challenge that the state-of-the-art equipment and technical expertise required to perform advanced imaging is not available at their home institute. These problems are exactly what Euro-BioImaging aims to overcome – this research infrastructure exists to break down the barriers associated with biological and medical imaging.
Euro-BioImaging is actually a European- wide network of 29 imaging facilities (also known as Nodes) offering a selection of 36 distinct imaging technologies across 10 European countries and EMBL. Euro-BioImaging offers the following open access services: 
Access to cutting-edge imaging technologies: From Super Resolution Light Microscopy to Electron Microscopy, EuBI offers access to the latest imaging technologies to allow you to generate innovative results. 
Expert training and support: Each Node is staffed with personnel who can
provide the support required to maximise the output of your research project. Guidance is available for all aspects of the imaging pipeline, from study design to image capture.
Image processing and storage: Data storage and analysis is a significant problem considering the large and complex datasets generated by imaging technologies. Euro-BioImaging can help extract meaningful conclusions from your data and, through tools such as Image Data Resource, can give you the means to store and disseminate your data.
All life scientists, from academia to industry can access Euro-Bio- Imaging services. These services are available now while Euro-Bio-Imaging is in its "interim phase" and we all look forward to the coming months when Euro-BioImaging becomes a fully established European Research Infrastructure Consortium (EuBI ERIC).
Click here for more information including access to the application form and a list of the available technologies.