If you missed the MCAA General Assembly and conference, don't worry! Calum MacKichan, Chair of the Communication Working Group, sums up the main points as well as his impressions of this annual event.
On 24 and 25 March the MCAA General Assembly and Conference in collaboration with the MCAA Spain/Portugal Chapter met in the beautiful Spanish university town of Salamanca, bringing together Members from across the world.
In a keynote speech entitled "Pro-tecting Freedom in Science", So-phie Beernaerts, Head of the Euro-pean Commission Unit responsible for the Marie Skłodowska-Curie
Actions encouraged members to become involved in policy making, "during a time in which the future of Europe is really at stake". She called for scientists to be fully en-gaged in the political process as active citizens rather than just be-ing consulted as experts. "In the 20th century we worked with our brains, in the 21st maybe we have to use our hearts and empathy". In a call to social scientists, she called for a new kind of innovation, within democracy itself, to help shape the #FutureofEurope.
During the General Assembly discussions focused on all aspects of life in the association. Parallel sessions took place for each of the working groups, as well sessions on how to become more engaged in the association's activities. The lunch and coffee breaks provided time for new ideas and the forging of new friendships, while many potential projects for the future were debated.
The conference discussed a wide variety of topics relevant to MCAA Members, tackling issues such as pensions for mobile researchers, taking science to business, communication skills, mentoring and networking. During a panel discussion, Margaux Kersschot of Adoc Talent Management (and former president of Eurodoc), asked a rhetorical
question that almost all MCAA Members can relate to: "Is researcher mobility a good thing?" Her answer? It's up to you! Mobility means working hard to make the most of opportunities and maintaining your network in your home country, while establishing new connections during your international experience.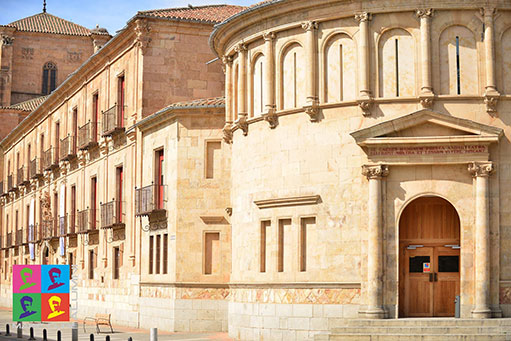 Matt Jaskulski (Fot. Matt, Foto-modelos.es.)
If networking is a key requirement then the evening dinner in a beautiful room at the Alameda Palace Hotel provided the perfect opportunity. Diners were entertained by a superb Science Slam expertly hosted by Yoran Beldengrün. MCAA Members Constantina Theofanopoulou, Dominika Bijos, Valerie Bentivegna and Elizabeth Evenden-Kenyon told stories, anecdotes and in one case sang songs, about their research and lives as scientists.
The conference closed with an award ceremony during which Gozde Unal, Associate Professor in medical imaging at the Istanbul Technical University received the Career Award. Giovanna Avellis was presented with the Outstanding Contributor award for her work leading the Gender Equality for Mobile Researchers in Science (GEMS) Working Group. Read more about their achievements on the MCAA website.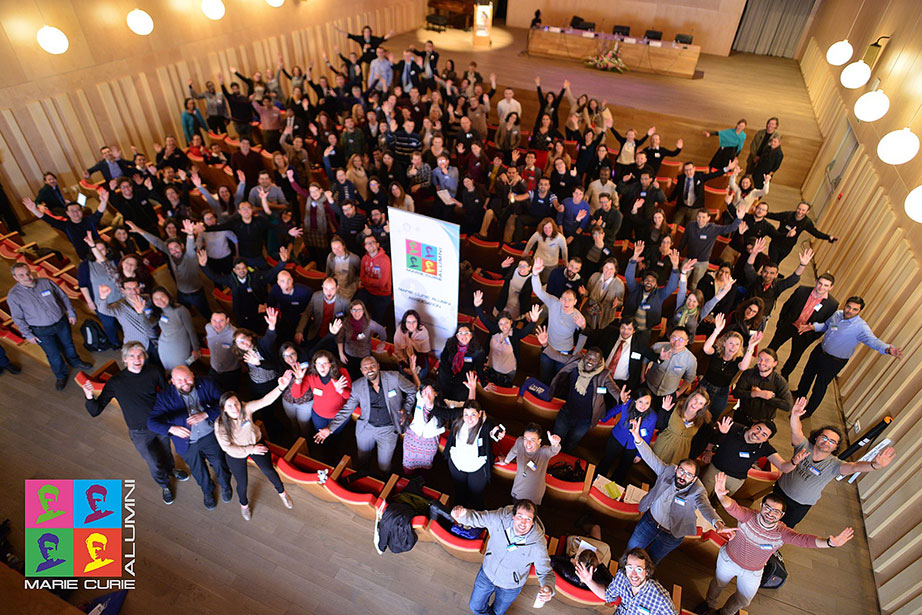 Matt Jaskulski (Fot. Matt, Foto-modelos.es.)
You can find recordings of the assembly sessions here and the conference sessions here. The conference hashtag was wellused and a summary of the social media activity by Dagmar Riedel can be found here. Many photos by MCAA member Matt Jaskulski have also been uploaded onto the MCAA Facebook page.
Huge credit goes to local organiser Luis Sanz Andreu and the team from the University of Salamanca, and we all look forward to the 2018 edition which will be held in Leuven, Belgium.
Did you know that the MCAA Web Portal now includes a jobs board? We encourage our members to post job opportunities (please log in to the web portal first). The jobs postings can also be viewed by non-members and we will promote the board widely throughout MCAA social media in the next months.

MCAA is particularly interested in hosting Expressions of Interest for the forthcoming Marie Skłodowska-Curie Actions Individual Fellowship Call. We have very many members, who are interested in applying for an Individual Fellowship. We have many members who are making career in academia, who would love to supervise an individual fellow. Through this jobs board, we can contribute to building very effective and practical networks within MCAA.
Each year the Marie Curie Alumni Association (MCAA) highlights and rewards significant actions and activities undertaken by its members. Here we unveil the lucky 2016 winners.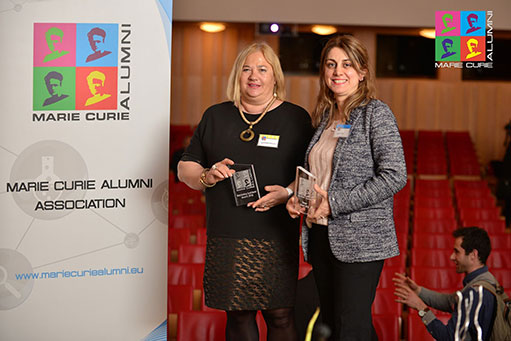 Matt Jaskulski (Fot. Matt, Foto-modelos.es.)
Gozde is an engineer and Associate Professor in medical imaging at the Istanbul Technical University in Turkey. Her research combines computer vision and medical imaging techniques. She uses mathematical and physical methods to address clinical problems.

She has led a variety of research projects and actively collaborates with hospitals and medical practitioners.
In 2010, she was awarded the L'Oréal Turkey Young Women Scientist Award.
She is a keen promoter of women in science and also serves as an inspirational role model for the next generation of scientists by taking Technologically Enhanced Active Learning techniques into classrooms.
What are the selection criteria?
■ Excellence of results / research work
■ Awards / prizes gained in recognition of research activities
■ Outreach and impact of research activities
Special highlight for outstanding societal impact: Neil Howard
Neil is a post-doctoral researcher in international development at the University of Antwerp, Belgium. He is a young researcher but his work has already had an impact.
He established the 'Beyond Trafficking and Slavery' (BTS) platform to bring together academics, policy makers and civil society organisations in order to advance understanding of the structural, political, economic and social root causes of exploitation, vulnerability and forced labour. The platform attracts very high levels of attention and has enabled public debate with large institutional actors, including Human Rights Watch, the International Labour Organisation, and the UK's Anti-Slavery Commissioner. BTS has attracted significant funding from the Ford Foundation and Neil himself has also been a recipient of numerous awards and grants in recognition of his work.
The Award Committee wishes to highlight and acknowledge the values represented by Neil's work and would like to commend him for the outstandingly high societal impact of his work at such an early stage in his career.
Selection procedure
The selection of the 2016 winners was carried out by an Award Committee comprising seven independent personalities:
Giovanna is researching mobile learning at INNOVAPUGLIA SPA in Italy and also leads the MCAA Gender Equality for Mobile Researchers in Science (GEMS) Working Group.
She is very active in promoting gender equality in science and has worked for the benefit of the Marie Curie community. Her work has great visibility at an international level, lending high impact to her community outreach work.
The Award Committee particularly appreciated her commitment to gender issues and the effectiveness of her work.
What are the selection criteria?
■ Value and impact of contribution to the Marie Curie community
■ Effectiveness of outreach activities for the Marie Curie community
■ Engagement and commitment to the MCAA
Dario is head of the Research Office at Ca' Foscari University of Venice, Italy. He was awarded for his "outstanding contribution for the development and growth of the Association". 
His award proves that research support services play a crucial role in successful career development as well as the creation of a positive and fruitful research environment.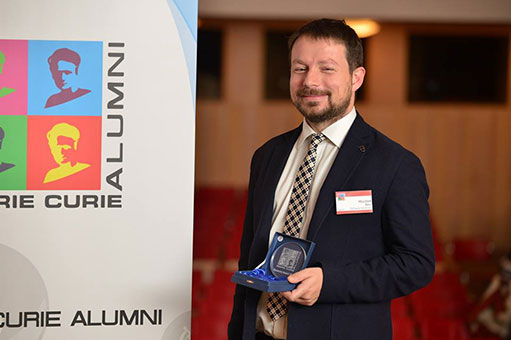 Matt Jaskulski (Fot. Matt, Foto-modelos.es.)
Thanks to his commitment and the work of his team Ca' Foscari University has been leading Italian universities in terms of MC Individual Fellowships awarded over the last three years. Furthermore, Ca' Foscari is now the university with the highest number of active IF projects in Italy and its outstanding young researchers' community is continuously growing.
The Award Committee wishes to highlight and acknowledge the support that Dario Pellizzon, the Head of the Research Office at Ca' Foscari University, gave to the 2016MCAA General Assembly and Annual Conference. In addition, he contributed a well-received talk on researcher
career development to the MCAA's Career Seminar at EMBL Heidelberg. 
Dario was always open to collaborating with the MCAA and advised many of his colleagues in the international research community to work with the MCAA as well. His work supporting the career development and mentoring programme for MSCA Fellows at Ca' Foscari University should serve as a model for many other host institutions. For these reasons the MCAA awarded Honorary Membership of the Association to Dario Pellizzon. 
■ Anett Kiss, Chair of the MCAA Award Working Group; 
■ Apiyo Okwiri, President of the Erasmus Mundus Association;
■ Alexandra Cuffel, Ruhr-Universität Bochum;
■ Salome Cisnal de Ugarte, Fullbright Alumni Network – Belgium;
■ Juan Javier Rivera, Anthropologist, MC Alumni & Alexandre Von Humboldt Fellow;
■ Simone Linz, Lecturer in the Department of Computer Science at the University of  Auckland;
■ Dr Natalia Beloff, Senior Lecturer in Software Engineering, University of Sussex.