I benefited from an ERC grant –
Top tips from Annika Guse
Do you intend to apply for ERC grants? Then keep reading! We had a talk with Annika Guse who shared some tips.
1. Annika, can you say a few words about yourself?

I am originally from Germany and studied Biology at the Technical University of Braunschweig.
After that, I switched fields a couple of times before settling on studying host-symbiont interaction in corals using Aiptasia, a tropical marine sea anemone, as an emerging model for coral symbiosis in my own lab. 

I did my PhD at the IMP in Vienna working on cytokinesis in nematodes (C. elegans) and mammalian cell culture systems. A short Postdoc at the Technical University of Braunschweig on recombinant antibody technology followed, before I explored fundamental aspects of chromatin biology using frog extracts (X. laevis) as an experimental system at Stanford University in my second, longer postdoc.
In between, I also spent some time in Mexico and Egypt participating for example in coral reef monitoring programmes reflecting my additional interest in marine-biology related topics.
2. Could you say more about your current research activities?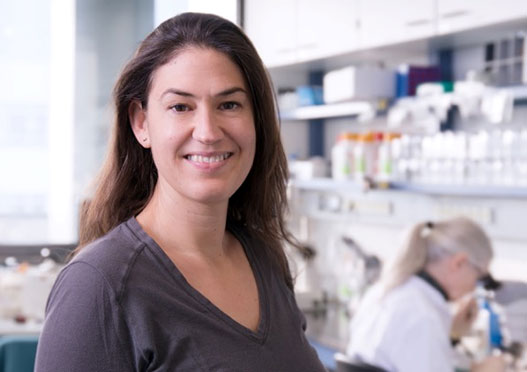 My lab focuses on establishing and using the larvae of Aiptasia as a model for symbiosis establishment: the acquisition and intracellular integration of photosynthetic dinoflagellates into the larval cells. This type of symbiosis is ecologically very important because the productivity of whole coral reef ecosystems depends on the transfer of photosynthetically fixed nutrients from the symbiont to the coral host. However, corals and their larvae are not very well-suited as laboratory systems and therefore we have developed many important experimental tools for Aiptasia and their progeny which, in contrast to corals, can be reared in the lab, allowing us to dissect the molecular mechanisms underlying symbiosis establishment.
Building up on the resources, we are now starting to specifically address open questions such as: how are symbionts recognised by the host? How are key nutrients transferred between partners? And how do symbionts avoid digestion by the host? (which is what typically happens when a foreign cell
invades an animal cell). 
3. You obtained a Marie Curie grant, could you tell us more about it?
I received a Marie Curie Career Integration Grant (CIG) from 2014- 2018, this is a programme which I believe has unfortunately been discontinued. My CIG project also focused on aspects of the intracellular coral-algal-symbiosis and was carried out at the Centre of Organismal Studies (COS) at Heidelberg University in Germany, where I and my lab are currently based. 
The CIG grant had – and still has – a big impact on me getting my lab up and running because it gave me the flexibility to hire a Postdoc early on and to buy some smaller pieces of equipment – both were critical for a smooth start.
4. You also won an ERC grant! Which type of grant did you win and for which project?
I won an ERC Consolidator grant that also includes money for buying a top-notch laser-scanning-confocal microscope. 
My lab will start using the grant in June. Over the next five years we are planning to uncover fundamental aspects of the uptake-mechanisms f symbionts via phagocytosis into host cells, and how symbiont-derived nutrients, using cholesterol and other sterol derivates as an example, are received and processed for cellular use in the host. 
5. Do you have any tips on submitting a successful ERC application?
I think there are different ways to succeed and everybody has to find their own.
However, in my case it was crucial to start early enough to allow enough time for thinking about what exactly I would like to propose, and to write, since the ERC applications are very involved.
Another critical point was to get feedback from 2-3 more senior scientists who knew how to write good grant applications. This should be done long before the deadline so that there is enough time to implement any feedback.
Finally, I think it is important to prepare well for the interview. I went through multiple rounds of practice talks and mock interviews with colleagues and previous ERC grant holders, which helped me to prepare for the stressful interview in Brussels.
6. How do you envisage your future career?
Like many of my peers, I hope to gain a more permanent job at a great institute and to focus on the science and long-term goals. 
Apart from this practical aspect, I envision advancing our current limited mechanistic understanding of how these two distinct cells, the algal symbiont and the animal host cell, build this intimate partnership and coordinate their cellular functions. I hope to make more young researchers excited about this upcoming field of cell biology so as to fuel the growing community and speed up scientific progress.