MESSAGE FROM THE BOARD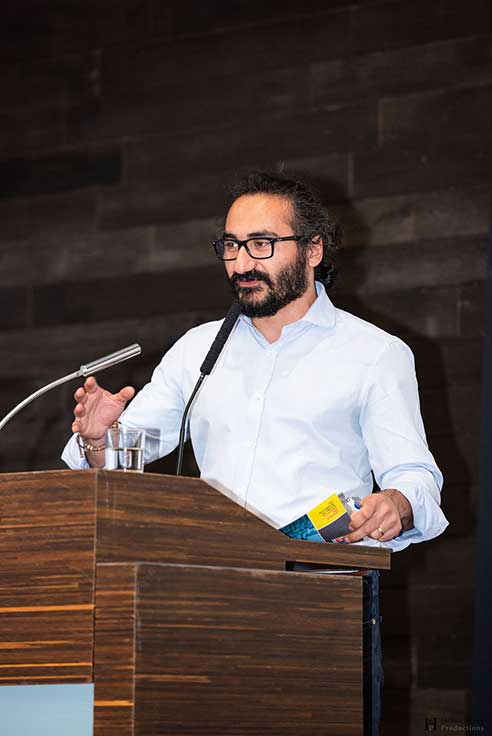 The summer holiday season is upon us. We have spent time during the year working hard in laboratories, offices, and even in field studies to discover new knowledge, to understand the mechanisms of nature, and address social challenges to make a better future. Summer can offer us (we hope) some time to rest, be with family and friends, and gather more energy for the coming year.

The MCAA board is happy to report some of the major highlights, activities, and events during the last year. The most outstanding event was MCAA's General Assembly and Annual Conference, which hosted over 650 participants. 
The 2019 GA was MCAA's most successful to date, and we look forward to as great a GA in Zagreb, in March 2020.  Participants benefited from 24 interactive sessions ranging from AI, to researchers' mental health, keynote speeches, networking events, a career fair, and much more. Attendees from 60 different countries came together to exchange ideas, share knowledge, and inspire others. The event showcased 110 experienced speakers, and the University of Vienna proved to be an inspirational location. 
On behalf of the board and MCAA, we are grateful to the organisers, particularly to MCAA's Vice-Chair Dr Mostafa Shawrav for supervising the planning and execution of the event, to the University of Vienna for a wonderful venue, and to our team of volunteers for their valuable contribution to creating such an amazing atmosphere. I believe this team will bring the experience and knowledge to make MCAA's 2020 GA & Conference in Zagreb even bigger and better.

In addition, we are happy to announce two recent positive developments. First, MCAA Newsletter was given an ISSN (2663-9483). Articles can now be formally considered as publications for science communication and public dissemination. This will add further value to the visibility and recognition of MCAA and its members. We hope that this great development will encourage you to contribute more in future.
Second, MCAA is proud to be a partner organisation to DohART- NET, an MSCA International Training Network (ITN) coordinated by MCAA member Dr András Dinnyés and funded through the Horizon 2020 MSCA-ITN-2018 call. MCAA will contribute to transferrable skills training for the Early Stage Researchers in DohART-NET. We look forward to this opportunity, and hope that our involvement will lead to future opportunities on high-quality proposals such as this one.
 
During the year, MCAA's chapters continued to organise their annual meetings. Swedish chapter members and North America Chapters members held meetings in May. The Austrian Chapter and the Turkish chapter recently organised their annual gatherings. The French, Israel, and Spain-Portugal Chapters held very successful Career Development Events. 
One of the key missions of MCAA is to keep members united through their local chapters. Therefore, we continued to support chapter events throughout Europe and abroad.  Our board members, Chapter chairs, and WG chairs have been very helpful in assisting with these events, particularly Marco Masia, Pavlo Bazilinskyy, and the German Chapter Chair Marina Rantanen Modéer. The Western Balkans Kick-off Meeting, organised by the Chair Radenka Krsmanović Whiffen, took place on 7 June in Podgorica at the premises of the Montenegrin Ministry of Science. Vice-Chair Mostafa represented the board, welcomed members to the meeting, and discussed opportunities for researchers in the Western Balkans scientific community. We hope to continue to support additional chapter events in the coming year and encourage chairs to contact us for ideas and assistance. 
In addition, MCAA's working groups were very active this year. Bridging Science and Business (BSB) working group, chaired by Dr Pavlo  Bazilinskyy, held the first of the 'Researchers Meet innovators' event series on 19-20 April in Kyiv, Ukraine. The main focus of the event was to establish a discussion between startups in Ukraine and the EU on the pros and cons of managing projects on the cusp between business and science. The second event in this series will be held at TU Berlin and is organised by board member Dr Marco Masia. During this two-day meeting participants will learn how to contribute to innovation and will participate in a wide range of workshops aimed at providing them with skills and knowledge. The event is designed for people from the research community, start-ups, notfor-profit organisations and corporate environments who want to learn more about innovation and ways in which researchers and innovators can synergistically and successfully work together. 
MCAA is proud to note that we were invited to participate in the Marie Skłodowska-Curie Actions Presidency Conference (MSCA) organised under the auspices of the Romanian Presidency of the Council of the European Union, in Bucharest, on 4-5 June. This is a flagship event for the MSCA Programme. Vice Chair Mostafa, Board Member Maria Mathiass from Policy WG and myself successfully represented MCAA as reporters of the sessions. Last but not least, MCAA also organised 'Towards Sustainable Research Career Workshop' moderated by Mostafa. Fellow board member Dr Maria Górna and I were speakers representing MCAA, together with Vice Chair of MSCA Advisory Board Anita Tregner-Mlinarić, and Policy Officer of MSCA Stjin Delauré, who contributed valuable information at the round table session.
On behalf of MCAA's board, I would like to thank you for your contribution and for being a part of the MCAA community. As board members, we represent a diverse range of research fields, from academia and industry, and are proud to serve this role and to represent our amazing and diverse global membership.  We will continue to do our best to help you through organising scientific and outreach activities, to unite members with other members and non-members, experts, and create outstanding networking opportunities. 
We wish you a happy and relaxing summer. 
MURAT GÜNES
SECRETARY MCAA BOARD