How can health systems make better use of available data to improve our health while making healthcare more financially efficient? Damir Ivanković, PhD fellow for the Marie Sklodowska-Curie project HealthPros explains.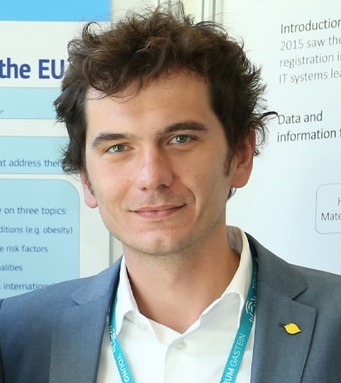 Healthcare systems need to achieve a balance between improving the health of populations, delivering quality care to individuals and containing costs. To achieve this so-called triple aim, HealthPros is training the next generation of healthcare performance intelligence professionals. 
The 14 PhD candidates from across Europe will make effective use of available healthcare performance data in various countries Overall, the goal is to improve integrated service delivery, patient engagement, equality of healthcare access and health outcomes, and to reduce healthcare waste. 
There's an ongoing shift globally from mere cost-control to more performance-based governance driving healthcare systems towards greater use of clinical and adminis
trative data. However, there's a lack of research training in producing valid, reliable and actionable healthcare performance intelligence, and stakeholders using this intelligence lack critical assessment skills. 
"There's a tremendous opportunity to use the available data to understand the factors that hinder optimal performance of healthcare systems, and to identify impactful and manageable ways of addressing them," says Ivanković, a medical doctor from Croatia. "In short, the healthcare system performance researcher of the future needs to have a multi-disciplinary skill set, and this is what HealthPros provides." 
Having worked in clinical medicine, the government sector and the medical device industry, he's the ideal mix of expertise, skills and experience HealthPros was seeking to support local, regional and national healthcare stakeholders, including patients. "There's a clear need for professionals equipped with the tools to maximise the use of available data through healthcare performance research," he notes. 
Six months into his research, Ivanković is investigating how corporate results-based governance tools are and could be used in healthcare. The development and application of performance-based governance mechanisms are considered key factors in channelling the various dynamics towards high-performing healthcare systems.
By using a framework anchored in communication sciences, the fellow is assessing reporting on comparative health system - and service-level performance data through publicly available websites. "It may sound complicated, but what this basically means is I look at websites that publicly report comparisons between health systems or, for instance, hospitals within one national health system," explains Ivanković. 
More specifically, he's exploring how well the basic questions of every successful communication are answered: Who do we report this for and why? What do we report, and how do we do it? Despite tremendous efforts in the transparency and accountability of public reporting, "it seems that surprisingly little of these efforts really answer such crucial questions, which might be one of the reasons this data gets used much less than expected." 
Ivanković is also examining how hospital managers across Europe use performance data in their daily work. For this he is collaborating with the European Hospital and Healthcare Federation (HOPE). "Are hospitals, as increasingly complicated and even complex organisations, run on an evidence-informed basis using available data? If so, which data is used and what tools are applied to visualise and monitor progress?" 
Preliminary results show that more data is collected than is actually used, and that hospital managers in Europe might still not have the necessary skills to work successfully in a data-driven way.
THE MCAA NEWSLETTER STAFF
As the volume of information gathering is set to surge in the coming decade, concerns loom over management and efficient processing of generated data. A project, funded through the Marie Skłodowska-Curie Research and Innovation Staff Exchange (RISE), is leading the way in designing special modules that compress colossal data.
Understanding illnesses such as cancer, pose a major undertaking for scientists. It requires not only the sequencing of thousands of cells linked to a single tumour but the laborious and complex task of analysing and comparing volumes of accumulated data. 
The sheer volume alone, experts say, is so vast that it presents a major obstacle in existing computer storage, management and indexing systems. What is more, the challenges are set to multiply soon. 
For starters, DNA sequencing technologies are evolving faster. And in the next decade alone, experts say they predict the volume of information to increase tenfold. 
"We are just beginning to be capable of managing this huge amount of information," says Susana Ladra of the University of A Coruña, in Spain. "But we are not prepared to address the bigger challenge being posed by the explosion of data coming from DNA sequencing."
Funded by the European Union, the BIRDS project, set up in 2016, addressed these concerns, designing new modules that compress 
vast volumes of data, providing better storage and processing of the information. Most importantly, the project captures and exploits data patterns and repetitions that contain information on an organism's DNA.
"This will have a great impact on current bioinformatic software... and on efficiently building indexes for large genomic databases," says Dr Ladra, project coordinator of BIRDS. "This can revolutionize the field of bioinformatic and help in the discovery and treatment of rare diseases."
The biggest challenges facing BIRDS researchers include not only creating vast storage methods but processing and analysing data in the most effective way possible.
"Our challenge is to rack our brain to obtain the smartest, smallest and fastest way of representing the data," explains Dr Ladra.
BIRDS is focusing on three lines of research: algorithms for sequence analysis, compression and indexing for repetitive data, and data structure for data analysis.
Meantime, results emerging from the project have also been useful in related fields such as proposing compact representation of moving objects whose representation of trajectories have long been a problem in retrieving information in geography.
"The storage of positions and trajectories of cars, ships, people etc. is a usual requirement in many systems that need to manage large amounts of data," says Dr Ladra. "Efficient compression of trajectories is an active research field, but most of the solution for efficient representation are limited to the research community.
"This will be exploited as a tool inside larger management tools for companies that manage mobility workers or container ships... Results on trajectories can be commercialised and used by airlines, for example, to know how they can optimise routes, where they can save fuel, or which flights had problems on their routes.
"In most cases, this sort of information is stored and transmitted in uncompressed form, leading to inefficacy."
BIRDS incorporates seven research institutions in four countries. These are the University of Melbourne; Unviersity of Chile; University of Concepcioin, in Chile; University of Helsinki; Kyushu University; Instituto de Engenharia de Sistemas e Computadores, Investigação e Desenvolvimento em Lisboa, Portugal; and University of A Coruña, alongside a Spanish SME Enxenio SL. 
The project aims to boost the number of participating researchers, improving also the education of PhD candidates and postdoctoral researchers.
 "WE EXPECT BETTER RESEARCH WILL BE CARRIED OUT IN EUROPE THANKS TO EU FUNDING"  

THE MCAA NEWSLETTER STAFF